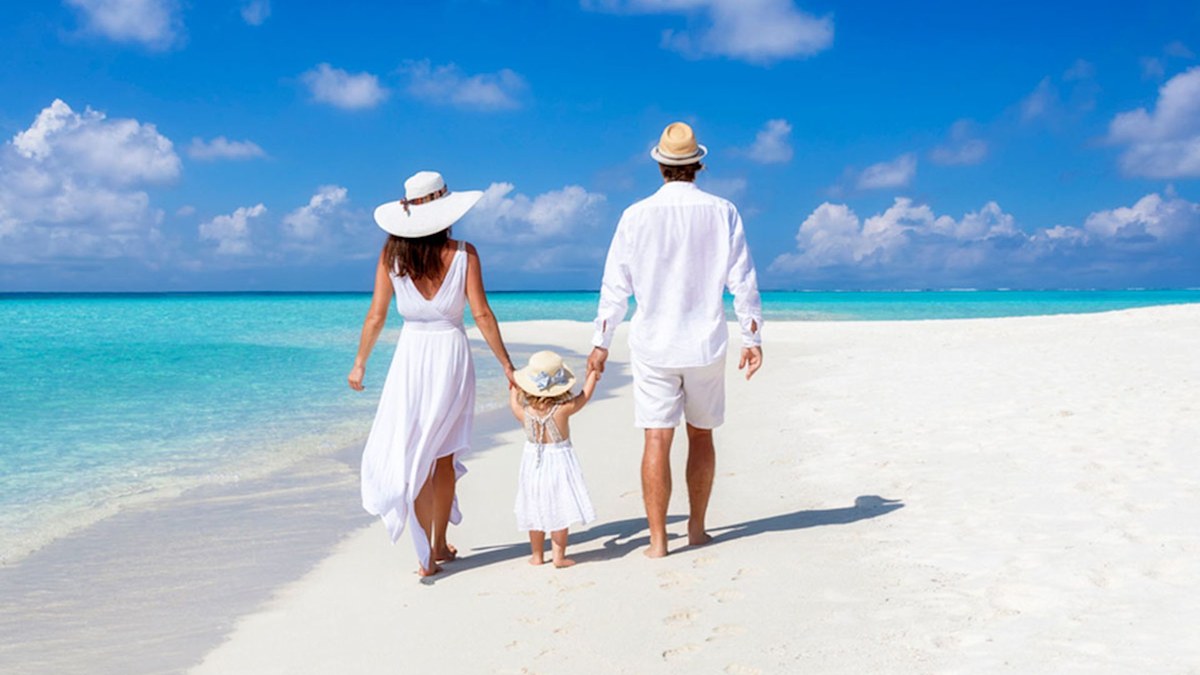 If you're planning ahead for a family getaway in 2023 – especially over the school holidays – we're here to help.
Whether you're hoping to jet off to France or you're looking for a cheap and cheerful family holiday in Spain, there are some bargain deals around at the moment. So if you haven't got a family holiday booked yet, now is the time to start looking!
We reached out for expert tips from Frankie & Becky, the founders of Tiny Travelship, a global community of over 26,500 parents seeking and sharing stylish family travel recommendations, tips & tricks and expert itineraries.
Frankie & Becky, what's your advice to parents travelling with babies 
Make the most of it. Contrary to popular belief, travelling with super young babes is a lot easier than you may first think (first time family travel nerves aside). Before tots are crawling, when they're still small, sleepy and super portable, the world really still is your oyster. Board those long haul flights now, before you have a terrible toddler to contend with, and don't rule those bougie boutiques off your bucket list just yet as a surprising number warmly welcome babes in arms.
Don't fear the flight. A smooth flight begins way before take off. When flying with a baby, it definitely pays to plan ahead. Even if you want to walk your baby to the plane in their pram, it's well worth bringing your carrier too as walking your tot up and down the aisle in the air can help them fall asleep (we love the Ergobaby 360). Feeding on take off and landing really helps babies to equalise their ears, so if you formula feed, pack a lot more than you might have planned to account for this. Try and book a front row seat so you have plenty of space at your feet for easy to reach essentials (don't forget a change of clothes for yourself as well as the baby) and check the bassinet policy of your airline as these can vary – for example, Virgin Atlantic allocate according to age, giving the tiniest tots priority, whereas British Airways operate on a first come first serve basis. Remember, your baby is never as loud as you think – most people will be wearing headphones on the flight and the holiday is always worth the journey.
Pack smart. While travelling hand luggage only might be a thing of the past, that's not to say you can't travel (relatively) lightly. More and more hotels, villas and even Airbnbs have an extensive range of parental paraphernalia, from cots and highchairs to baby baths and buggies. Email in advance to see what is available and don't be afraid to ask for photos if it makes you feel more comfortable – particularly of car seats and cots. 
What's your advice to parents travelling with toddlers
Make your life as easy as possible. You know your toddler better than anyone else, and the parental pain points you experience at home won't magically disappear on holiday, so tailor your getaway with these in mind to relieve stress all round. If your child hates the car seat, look for hotels or homestays close to the airport, with plenty of facilities on site (come rain or shine). If it took your tot a while to warm up to nursery, don't expect them to run into a Kids Club without a backwards glance – it may be that you get your adults only time via post bedtime babysitters instead. If you have a fussy eater or allergies on your hands, self catering options can be a life saver – this doesn't mean ruling out hotels, but looking for those 'best of both; gems e.g. Chateau Les Carrasses and Martinhal Sagres which have onsite restaurants as well as accommodation options with fully equipped kitchens.
Consistency is key. Toddlers are creatures of habit, so try to recreate a home from home vibe on holiday. This doesn't mean sticking rigidly to your every day routine, but creating a sense of familiarity in new, unfamiliar surroundings by packing favourite comforters, bedtime stories, and introducing your tots to their new sleep environment as soon as possible – bonus points for playing games and making them giggle in their new cot.
Be space savvy. Don't be a prisoner to your baby's naps while you're away – there is nothing worse than knowing the sun is shining outside whilst you're trapped in a darkened room. Separate sleep spaces don't need to cost the earth – you can get creative and turn a walk-in wardrobe or even a bathroom into a makeshift nursery. Think about where your baby monitor will stretch to during nap times – while a private pool is the ultimate parent pleaser, small gardens, patios or even balconies can also be a godsend.
Best places online to book holidays
Holidaying with babies and toddlers can be significantly more challenging than an adult break – have you considered the travel time, the weather and what child-friendly amenities the hotel or apartment offers?
Trying to find the perfect balance can become very stressful, so we've rounded up some of the best holiday destinations for toddlers and babies you should consider for 2023.
How we chose the best holidays and hotels for babies and toddlers
HELLO! reviews: The HELLO! editors are often hosted on trips either in a group capacity or with a family member. The writer will evaluate whether the hotel looks suitable for kids or babies. 
Online reviews: We trawl through the reviews looking for parent opinions. 
Expert verified: The list has been checked over by the experts in this article, tinytravelship.com features lots of parent pleasing properties, all visited and verified by a fellow family.
The best family-friendly resorts for babies & toddlers
From breaks in the UK, beach resorts in Europe and even more far-flung destinations that you can finally put on the travel list, take a look at these family-friendly resorts…
Jumeirah Beach Hotel, Dubai
If you're looking for a family holiday that young kids will love and your teenagers will too, this is it. The Jumeirah Beach hotel has thrills, spills and unlimited fun for teens thanks to the rides and slides at Wild Wadi Waterpark which is situated on the grounds. There are also tennis courts, football training and cinema under the stars. You'll also find that the hotel is home to Football Escapes with current and ex-professional players coming from all over to teach the kids a thing or two. 
With vibrant indoor and outdoor spaces and play areas, the Jumeirah Beach Hotel KiDS Club is home to a kaleidoscope of social activities, from aqua fun, to crafting and face painting.
Parents seeking a moment of quiet relaxation can enjoy peace of mind with the babysitting services. Dedicated specialist staff that have met international childcare standards are at hand, so that you and your loved ones remain loved for.
HELLO! recommends Jumeirah Beach Hotel. To book your stay, visit booking.com.
TinyTravelship approved: "We agree, Jumeriah Beach is highly recommended by our community."
Fairmont Royal Palm, Marrakech
Fairmont Royal Palm, located only twenty minutes away from the Medina of Marrakech, is extremely family-friendly. The enchanting Kids' Club promises the little guests a world of discoveries with a wide range of activities and a dedicated outdoor play area complete with a trampoline, a bouncy-castle, a mini soccer field, and two mini clay tennis courts. 
TinyTravelship recommends: "A vibrant city bursting with colour and tradition, Marrakech's souk lined streets may be overwhelming when travelling with tearaway toddlers but for tiny tots, the sights, smells and sounds offer a real life sensory class. Our suggestion would be the Riad Yasmine, which is a hidden oasis in the middle of Marrakech's magical medina. This intimate hideaway boasts pinterest-worthy interiors and a lush botanical courtyard complete with enticing plunge pool – perfect for cooling of after a day of sightseeing and shopping."
Tenerife, Spain
Although it's a slightly longer flight to take with a baby or toddler, the Canary Island of Tenerife is a great choice for a holiday with little ones at any time of year. Some of the most family-friendly resorts include Playa de las Americas and Costa Adeje, but we love the five-star hotel Fantasia Bahia Principe.
Make their dreams come true with the Cinderella-style castle, two splash parks and five outdoor swimming pools and a playground. There is also a heated swimming pool for kids, all-day clubs for children aged 3 and over and plenty of entertainment to keep them occupied in the evening. 
If you're worried the holiday excitement may impact their sleep, use the blackout blinds to enjoy a slightly longer lie in.
HELLO! recommends Fantasia Bahia Principe. To book your stay, visit tui.co.uk.
TinyTravelship recommends: "So much more than a package holiday cliche, Ritz Carlton Abama is a sprawling, striking pink palace much loved by Tiny Travelship parents. Totally geared up for children, there is a brilliant Kids Club, spacious family pool, babysitters and those under 3 eat for free. Chic yet peaceful, hidden corners at every turn are perfect for soaking up a few minutes of solitude, with a soothing soundtrack of flowing water and wind chimes. Boasting Michelin Star dining, a sumptuous spa and world-class golf course, you couldn't ask for more from this faultless fly and flop." 
Costa Del Sol, Spain
Easily reached within three hours of the UK, you have the guaranteed weather and beautiful beaches every parent craves when they think of a fun summer break.
While a self-catering villa or apartment could be ideal if you want to prepare your own meals, it may be worth paying a little extra for an all-inclusive resort, as they will have a selection of children's meals that even fussy eaters will enjoy and offer the convenience of having food available pretty much around the clock.
Puente Romano Marbella is one such stunning resort. With three outdoor pools and a dedicated family one down by the sand, there's plenty of variety for a whole week away. Plus, if toddlers are ready for pony lessons, the on-site equestrian centre is perfect. Under 12s, extra beds or cots are free. 
Yachts can be booked if you and the family fancy a day out alone, and there are kids clubs in high season from May to September. 
HELLO! recommends Puente Romano. To book your stay, visit booking.com. 
TinyTravelship recommends: "For a different take on the Costa del Sol, Marbella Club Hotel is a haven of hollywood heritage. Lushly wrapped in botanical gardens it could easily be mistaken for Costa Rica (not the coast of Spain). Famed for having one of the best Kids Clubs in the world, children are treated to their own mini kingdom with Flamenco yoga, cookery classes and perfume making workshops. A renowned leader in hassle free holidays, everything from prams to playpens are provided, and faultlessly friendly staff go out of their way to cater to your every wish and whim – even sourcing specific nappy and formula brands if you need."
Ayia Napa, Cyprus
Jet off to Cyprus for some gorgeous sun. Known for its beaches, Ayia Napa is a great place to go for long relaxing days building sandcastles.
At the 5-star Olympic Lagoon hotel, kids can play on the slides in the freshwater pool or enjoy some time at the creche, where babies aged 6 months or more can take part in soft play and surround themselves with toys under the watchful eye of qualified staff.
HELLO! recommends Olympic Lagoon hotel. To book your stay, visit booking.com.
TinyTravelship recommends: "You'd be forgiven for thinking Almyra is adults only – thanks to its design-led interiors, delicious restaurants, and glittering infinity pool, but that is far from the case. Our favourite family hotel on the island, Almyra delights tiny travellers and parents in equal balance, with creative childcare courtesy of Scott Dunn and adult indulgences including an award winning spa and Japanese fusion dining."
Club Med in the Algarve, Portugal
The newly-renovated Da Balaia resort perched on the cliffs of the Algarve is a veritable paradise for families with young kids. Guaranteed to offer mum and dad the one thing they really need – a break – this hotel has literally everything you could think of for young families.
First off, there's the childcare. Taking babies from 4 months old and up to teenagers, there's a club for every age and a plethora of activities to get stuck into. While many parents start the week sure their child will only want to pop in for a session or two, the GOs (the staff looking after the kids) are so amazing and the fun so plentiful, kiddos are usually begging to stay all day. 
While children are occupied, mum and dad can get some much-earned rest, either taking a dip in the adult-only, chlorine-free zen pool, or getting a treatment in the luxurious Cinq Mondes spa. 
Food is divine – with bottle stations in each accommodation block and freshly-made purees. Little ones may prefer the more temperate April and May to the blazing heat of the summer – great deals can be found outside of school holidays too. 
HELLO! recommends Da Balaia. To book your stay, visit Clubmed.co.uk. 
TinyTravelship recommends: A perennial Tiny Travelship family favourite, Martinhal Sagres is one of a rare breed of child centric hotels where fabulous family facilities don't compromise on grown up vibes. A masterclass in aesthetically pleasing baby proofing, expect sleek yet safe, and functional yet fashionable decor – think curved edges on tables, and comfortable, breastfeeding friendly seating. With a whopping five Kids Clubs, a genius family concierge service for hassle free packing and supervised activity corners in all restaurants, parents are invited to offload the mental load and switch off body and mind. 
The Baby Hotel, Austria
As the name indicates, the Baby Hotel in Austria is the ideal place to go with your little one. Europe's first baby hotel offers 80 hours' childcare each week for babies, has special menus for nursing mothers and a full-board option for formula-fed babies.
You'll also find dedicated baby-and-parent activities, as well as a spa and fitness centre where adults can relax and enjoy some time away knowing their baby is well looked after.
HELLO! recommends Baby Hotel. To book your stay, visit booking.com.
​TinyTravelship approved: "We agree, The Baby Hotel is highly recommended by our community."
Center Parcs, UK
Each of the five Center Parcs villages across the UK is suitable for holidaying with a baby or toddlers, with lots to explore and activities including swimming pools which have separate areas for youngsters, while the crèche offers three-hour sessions for children up to 35 months. The accommodation is fully-equipped too; lodges are fitted with stair gates and have high chairs and a cot.
There's an array of indoor and outdoor activities for toddlers, from mini football, to pottery painting and much inbetween. Many restaurants include baby stations with free baby food, bottle warmers and anything else your little one could require. There are even soft play zones inside some restaurants so there's no fear of hungry tantrums while you're waiting for supper to arrive. 
There are kiddie zones in the Subtropical Swimming Paradise, as well as baby trailers to hire to attach little ones onto the back of bikes if they're too small to ride. And if you go down to the woods (which you must – because the play parks are a lot of fun) you might be in for a big surprise. A real life teddy bear's picnic. Sign us up!
HELLO! recommends Centre Parcs. To book your stay, visit centreparks.co.uk.
Estepona, Spain 
Spain is such a hit with families, and the short flight time certainly helps. One of the most popular hotels to visit with your loved ones has to be IKOS Andalusia, located in Estepona, and acknowledged in TripAdvisor's 2020 awards as the best all-inclusive resorts in the world.
With two complimentary kids' clubs offering a range of activities including arts and crafts, sports, cooking and water sports and 24-hour room service,parents will be free to enjoy all the resort has to offer with total peace of mind. 
Whether you take the time out to enjoy the Ikos Spa by Anne Sémonin Paris (with nine private treatment rooms), or one of the eight indoor and outdoor pools, on site hairdressing salon or fitness studio with state-of-the-art equipment.
HELLO! Recommends IKOS Andalusia. To book your stay, visit booking.com.
TinyTravelship approved: "We agree, Ikos is highly recommended by our community."
Porto, Portugal
This is a perfect city break for families. Porto is filled with beautiful streets, parks, and even playgrounds, that seem to have been strategically placed for those travelling with kids.
Read our full review of the city here to get some inspiration!
HELLO! recommends the Feel Porto apartments. To book your stay, visit booking.com.
TinyTravelship recommends: "While trying to find a brilliant hotel in Porto's Old Town is tricky, Village by Boa offers a stunning selection of design-led, self catering apartments in an unrivalled city centre location. Expect magazine worthy interiors with separate living spaces, bespoke handmade furniture of the highest quality and gorgeous kitchens which will leave you wanting to cook up a storm. As a bonus, the nearest station (with a direct link to the airport) is only a 3 minute walk away." 
Nessebar, Bulgaria
Bulgaria has many unspoiled Blue Flag beaches that are both clean and safe, so you can have fun playing in the sand or paddling in the sea with little ones.
Nessebar has both old and new towns to explore, with plenty of places to shop and eat during the day and early evening before you retreat to your hotel or villa for your baby's bedtime.
HELLO! recommends the Aphrodite Beach Hotel. To book your stay, visit booking.com. 
Barcelona, Spain
There are plenty of great activities to do in Barcelona if you have little ones – The aquarium, the zoo, and the chocolate museum, to name a few. There are also plenty of beaches and fantastic architecture to see and explore. Just make sure you're keeping little ones out of the midday sun if you visit during summer, as temperatures are scorching during the busy tourist season.
If you're looking for a child-friendly hotel, the five star Hotel Arts Barcelona is a great choice, thanks to their Arts Kids programme. There are fun activities for little ones plus a special menu for kids, and they'll be given a surprise treat of balloons and sweet treats on arrival. The hotel also organises babysitting services, which means adults can escape for a romantic evening with peace of mind the little ones will be in good hands. You don't even need to go far – the hotel has its own fine dining restaurant – headed up by chef Paco Pérez, who has been awarded with two Michelin stars.
TinyTravelship approved: "We agree, Hotel Arts Barcelona is highly recommended by our community. As another option, we've also heard great things about Casa Camper."
HELLO! recommends Hotel Arts Becelona. To book your stay, visit booking.com. 
Lapita, Dubai Parks and Resorts, Dubai
Situated less than 30 minutes from Dubai Marina is probably the most thrilling and entertaining hotel – Lapita – which is ideal for families. Lapita Hotel is conveniently situated inside Dubai Parks and Resorts which is the home of three world-class theme parks and one water park. Can parents think of anything better to keep their little ones entertained?
Lapita is a Polynesian themed resort which offers stunning spacious guest rooms and suites featuring private balconies, five restaurants and bars, a spa boutique, a fitness centre, swimming pools and even its very own 'slow river'. 
HELLO! recommends Lapita Hotel. To book your stay, visit booking.com.
Rome, Italy
If you fancy a city break, Rome is ideal for young families. Not only is it easy to explore many of the sites on foot, but the streets are also relatively flat for getting around with a pushchair.
You'll also find specialist tours for kids and families, such as a three-hour scavenger hunt tour around the Trevi Fountain, Pantheon and Piazza Navona. Or a pizza- and gelato-making class -bound to put any little monkey in a good mood.
TinyTravelship approved: "You'll be hard pushed to find a better location in The Eternal City than Hotel de la Ville, a super luxe parent pleasing pad a stone's throw from the Spanish Steps. Old world opulence collides with a riot of colour, resulting in showstopping rooms and suites – many of which have private balconies and terraces overlooking the city's must see monuments. Whether ancient architecture, piles of pasta or masterpiece laden museums tickle your fancy, Rome is guaranteed to steal a 'pizza' your heart." 
Bali, Indonesia
If you're prepared to travel further afield, Bali is an affordable baby-friendly option. Canggu, Ubud, Jimbaran and Nusa Lembongan are among the most family-friendly areas.
Hotels are well-equipped with cots and highchairs, while you can easily book a nanny or babysitter to take care of your tot while you have some alone time. A nanny can even join you on your outings to let you have a bit of a break too thanks to an extra pair of hands.
HELLO! recommends The Four Seasons in Jimbaran. To book your stay, visit booking.com. 
TinyTravelship approved: "We agree, Four Seasons is highly recommended by our community."
Tuscany, Italy
Another child-friendly Italian destination is Tuscany, where you can indulge in pizza and ice cream in the Italian sunshine, while your tots can spend their days playing in the pool.
The medieval town of Lucca is completely flat and easy to navigate with a pushchair, but you might want to consider travelling out of season as temperatures soar during the summer months and it may be too hot for babies and toddlers.
TinyTravelship approved: "For a one of a kind, artistic experience head to Villa Lena, nestled in Tuscany's green rolling hills. Watch your tiny tot embrace their inner artist as you enjoy painting, pottery and pasta making workshops held by the hotels artists' in residence at this 19th century renaissance villa. Design leans into Wes Anderson aesthetics, with both interiors and exteriors offering Hollywood-worthy scenes. A feast for the stomach as well as the eyes, the gourmet garden to table dining is definitely worth writing home about. 
New Forest, UK
You can't go wrong with a trip to the New Forest with youngsters. There is so much to see and do, including visiting Paulton's Family Theme Park – home to none other than Peppa Pig World – sure to be a big hit with toddlers. There are lots of fantastic places to stay.
The Mayflower in Lymington is super for young families – a perfect coastal gastro pub situated a stone's throw from Lymington marina – and ideal for children with a garden complete with play area and within easy walking distance to Lymington-Keyhaven Nature Reserve which provides an idyllic place for a toddle or a stroll. They provide scrummy picnic lunches for longer adventures.
HELLO! recommends The Mayflower. To book your stay, visit booking.com.
Daios Cove, Crete
Beautiful views, six speciality restaurants, a private sandy beach and a children's club and creche club make this resort a great choice for families.
Greece is known for its hot, sunny climate and the flight isn't too long to endure with your little ones. The restaurants offer a variety of foods to keep the kids happy, the swimming pool is heated so even a baby can enjoy the water and the resort has babysitting services too.
We're pleased to hear that childcare is an important part of the Daios experience, so catch up on your couple time here!
HELLO! recommends Daio Cove.To book your stay, visit booking.com.
TinyTravelship approved: "We agree, Daios Cove is highly recommended by our community."
Macdonald Aviemore Resort, Scotland
If you don't want to leave the UK for the perfect little ones-friendly holiday then you should definitely consider booking one of the toddler breaks at the stunning Scottish Macdonald Aviemore Resort. From 169 per night a family of four gets board in one of their four-star family rooms, dinner in one of their restaurants and a full Scottish breakfast each morning.
There's plenty for little ones to do – you get full use of their leisure facilities including a toddler pool, a four-storey soft play centre and toddler activity room. There's also entertainment from Bubbles the Clown and a special toddler disco.
If you feel like exploring a little further, family tickets to Landmark Forest or Highland Wildlife Park are included.
HELLO! recommends Aviemore Resort. To book your stay, visit Macdonaldhotels.com
Disneyland Paris, France 
Disneyland is the ultimate holiday destination when the kids are young. While an action-packed trip to Paris might have to wait a few years, the theme park in Marne-la-Vallée is the ultimate mini-break location for a young family. 
There's something for everyone; the little ones will adore the gentle rides and meeting all the characters, while adults can wind down after a busy day in one of the eight resort hotels, go for a spin on the golf course, or hit the shops and bars. And don't forget sister park Walt Disney Studios, perfect for thrill-seekers and film buffs alike. 
Wowcher is currently offering a two, three or four-night Disneyland Paris stay with park ticket and flights from London, Manchester, Bristol and Edinburgh from just £199 per person.
HELLO! recommends Disney Paris, To book your stay, visit wowcher.co.uk.
TinyTravelship approved: "One of the perks of staying in a Disney hotel is definitely early access to the parks – you're allowed in an hour before the general masses – however, if you're looking for a stay that's a little more Parisian chic, check out this gorgeous airbnb. With two bedrooms, a light and bright Belle Epoque living space, and fully equipped kitchen, you can live like a local while being only a 30 minute metro ride away from the park. Disneyland lacks healthy food options but you can bring your own in so arm yourself with snacks, and try to dodge traditional meal times when the restaurants are at their busiest for less stress."
Winter sun suggestions
Disney World, Florida
The weather is best from September to November and prices are usually lower at this time.
We love Disney's Animal Kingdom Lodge, where the adventure of a jungle safari comes alive right before your eyes. The resort has restaurants, bars, a spa, swimming pool and kids club, and the best bit is that you might even see the zebras and giraffes roaming free from your very own room.
HELLO! recommends Disney. To book your stay, visit virginholidays.co.uk.
TinyTravelship approved: "For a parent pleasing holiday to Disneyworld, big on magic and memories but light on crowds and cost, consider checking into this 5 bedroom airbnb in Kissimmee. While you lose out on early access to the park by not staying on site, the Genie Plus pass starts at $15 per person/per day, and considering park hotels are 5x more expensive than local villas, your purse will definitely thank you. If you visit in the height of summer, be prepared for some seriously hot weather – we'd recommend spending your mornings by the villa pool, and heading into Disneyworld in the late afternoon for evening fun until the gates close. 
Majorca
Try Sir Richard Branson's Son Bunyola retreat in Majorca for a luxurious family holiday. The estate covers 680 acres of land and includes three villas, which each have their own private chef and a full concierge, while there is also a babysitting service on offer.
Alternatively, if you're on more of a budget, head to one of the popular beach resorts like Cala D'Or, which has lots of affordable and child-friendly accommodation, small and safe beach coves, along with activities where toddlers can play.
HELLO! recommends. To book your stay, visit VirginLimitedEdition.com.
TinyTravelship approved: "It's hard to find a parent pleasing box that Mallorca doesn't tick. A super survivable short flight away, at just 2 and a half hours, the island is a failsafe for family fun thanks to its wealth of shallow, sandy beaches, storybook villages, boutique shopping and guaranteed summer sun – not to mention a whole host of great day trips for all ages, our favourite being the traditional wooden train from Palma to Soller. Es Turo Hotel is a rustic retreat with bags of boho charm. An 18th century farmhouse in the Mallorcan hills, you'll find lots of family rooms & suites with separate sleeping spaces, an indoor and outdoor pool and seriously photo worthy restaurant on site within baby monitor stretch. For a spacious, self catering option, Just Experience Mallorca in Sant Elm couldn't be closer to the beach and has all the essentials you need for a break with a baby – plus a wealth of delicious local restaurants and a playground a short stroll away."
Four Seasons, Hampshire, UK
The Four Seasons Hotel Hampshire is a stunning Georgian manor house, surrounded by English countryside. With its luxurious decor and exquisite views, you may think it's a place where children just don't belong. But you'd be totally wrong. There's so much for children to do, and no detail is spared. 
Just 50 miles from central London, as soon as you arrive and have parked up,  you are greeted by a fully equipped adventure playground – it's the stuff childhood playtimes are made of. 
Parents can relax, unwind, have a swim and enjoy the sauna and the steam room, whilst the children can head over to the kids pool. It looks like a water park; a huge plethora of colourful slides and water features which is hugely impressive. If you have young babies, the leisure area even provides swim nappies in the changing rooms.
The food menu is ideal too. It's surprisingly extensive and full of amazing fresh produce, not just fish fingers and chips that you often find at other hotels. 
The grounds are so vast, there's plenty of areas for the children to run, with bikes and horses galore. A wonderful place to enjoy the great British staycation, for all the family.
HELLO! recommends Hotel Hampshire. To book your stay, visit booking.com. 
The St. Regis Saadiyat Island Resort, Abu Dhabi
The St. Regis Saadiyat Island Resort is a 5-star resort located on the stunning beach of Saadiyat Island in Abu Dhabi. Sunny almost all year round, the hotel also boasts every relaxation and spa amenity you could think of, such as the region's first Iridium spa and a state-of-the-art gym.
As well as this, the hotel also has a series of facilities aimed specifically at your little ones, and regards itself as a family-orientated resort. Who says you can't have it all?
At the hotel, you are provided with incredible childcare facilities. With babysitters readily available on request and staff on hand to assist with anything your toddler or baby may need, you only have to look at the reviews to see for yourself how well-equipped this hotel and its staff are for young families.
As well as this, the resort also has 'The Sandcastle kids club' open for babies and children aged 1-10. Open daily, it provides its very own children's pool, a fully supervised indoor play area (suitable for both children and babies), and organised activities including face painting and swimming lessons.
Being minutes away from both a stunning, child-friendly beach and downtown Abu Dhabi, your family can be sure you will have plenty to do at the The St. Regis whilst also getting some well-deserved relaxation. What more could you ask for?
HELLO! recommends The St. Regis Saadiyat Island Resort. To book your stay, visit booking.com. 
TinyTravelship approved: "We agree, St Regis is highly recommended by our community."
Meet the experts
Far from being your stereotypical travel influencers sharing their personal trips, Frankie & Becky, the founders of Tiny Travelship, pull on the collective knowledge of their global community of over 26,500 well travelled parents, who share their top family friendly finds with them. From world-class parent pleasing hotels to hidden gem homestays. The dynamic duo are building a big (little) black book of stylish family travel recommendations you can trust, as each and every one has been visited and verified by a fellow family. Head to tinytravelship.com for more parent pleasing properties, and follow on Instagram for daily inspiration, itineraries, insider reviews and the chance to share your own recommendations.